At the time of writing, the XRP price has seen an upward movement on its chart. After consolidating the asset for several days, it finally traveled north.
In the last 24 hours, the price of XRP has seen an increase of 6%. In the past week, the coin has gained over 20%.
Buyers have been trying to push the price up and finally succeeded in the last 24 hours.
XRP was stuck at $0.38 for a fairly long period of time, but buyers rescued the altcoin despite broader market weakness.
Continued buyer pressure could push XRP past its immediate resistance, invalidating its bearish thesis.
On the other hand, if the bulls fail to defend the current price level, the sellers will take over.
If the sellers take over, then XRP could be pushed close to the $0.30 price. At the current moment, XRP lies in a key support zone.
XRP Price Analysis: One Day Chart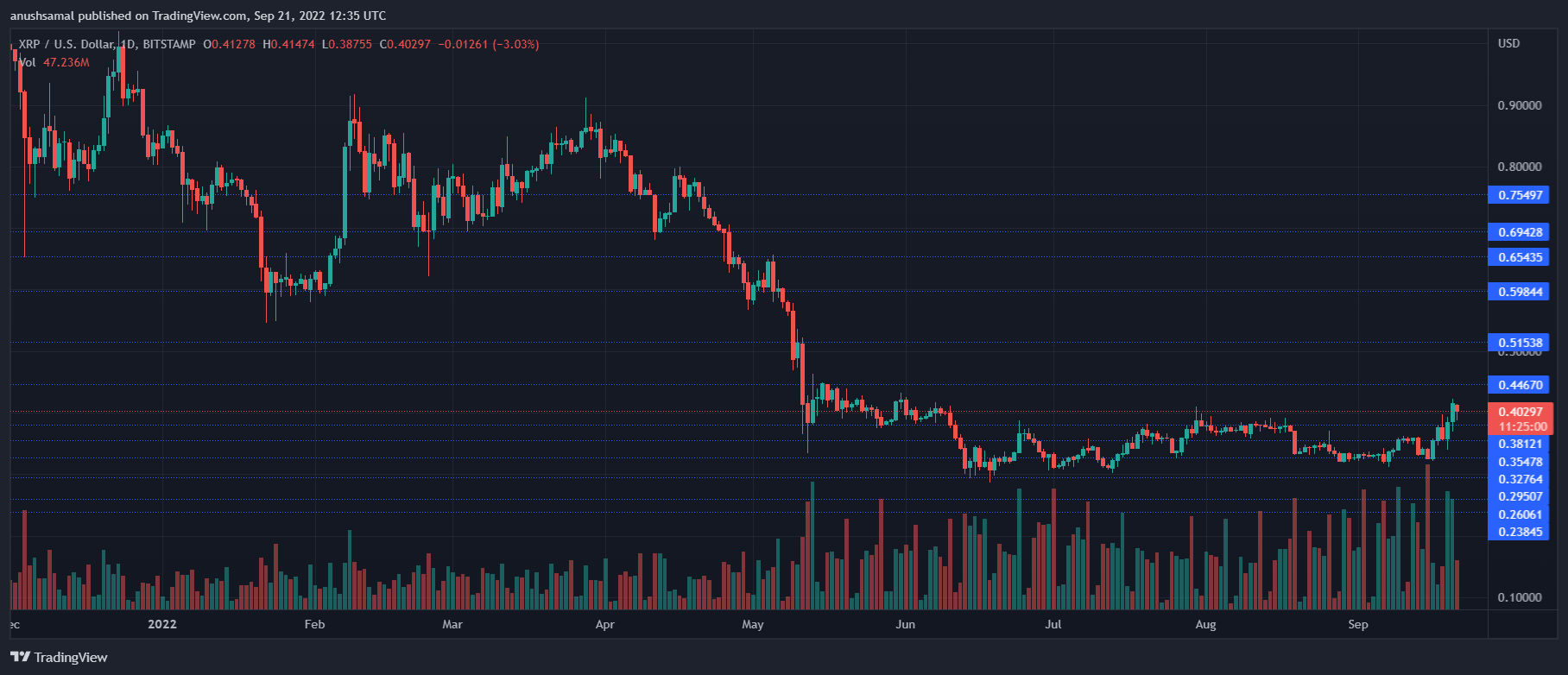 The altcoin was trading at $0.40 at the time of writing. XRP price has witnessed weeks of consolidation on its chart. Finally, buyers pushed the price above the next resistance mark.
Over the past week, XRP has broken through many resistance lines.
The coin's immediate price cap is $0.44 as the altcoin has struggled to break above that price level for several months.
On the downside, XRP's closest support was $0.38, and a break from that level would bring XRP to $0.30.
If buyers remain steady, XRP could break above $0.42 with a chance to break above the tough $0.44 resistance.
The amount of XRP traded in the last session decreased slightly, indicating that the number of buyers also decreased slightly.
Technical Analysis
Buying power has recovered significantly over the past week, which has slowly helped XRP travel higher on its chart.
The relative strength index almost touched the overbought zone, but recorded a decline. Despite the decline, buyers significantly outnumbered sellers in the market.
Usually an increased number of buyers creates a price drag. In that case, XRP could remain at $0.38 before regaining momentum.
XRP price was above the 20-SMA line, which signaled that buyers are driving the price momentum in the market.

The altcoin appears to be registering an increased buy signal on the one-day chart. Moving Average Convergence Divergence shows market momentum and altcoin price action.
The MACD went through a bullish transition and formed green signal bars, which were a signal to buy the coin. An increase in the size of the signal bars indicates that XRP will move upwards on its chart.
The parabolic SAR also determines the overall direction of the market, and the dashed lines below the price candlestick indicate bullish momentum.