A friend of Meghan Markle says the royal family is making efforts to 'fix this' with the couple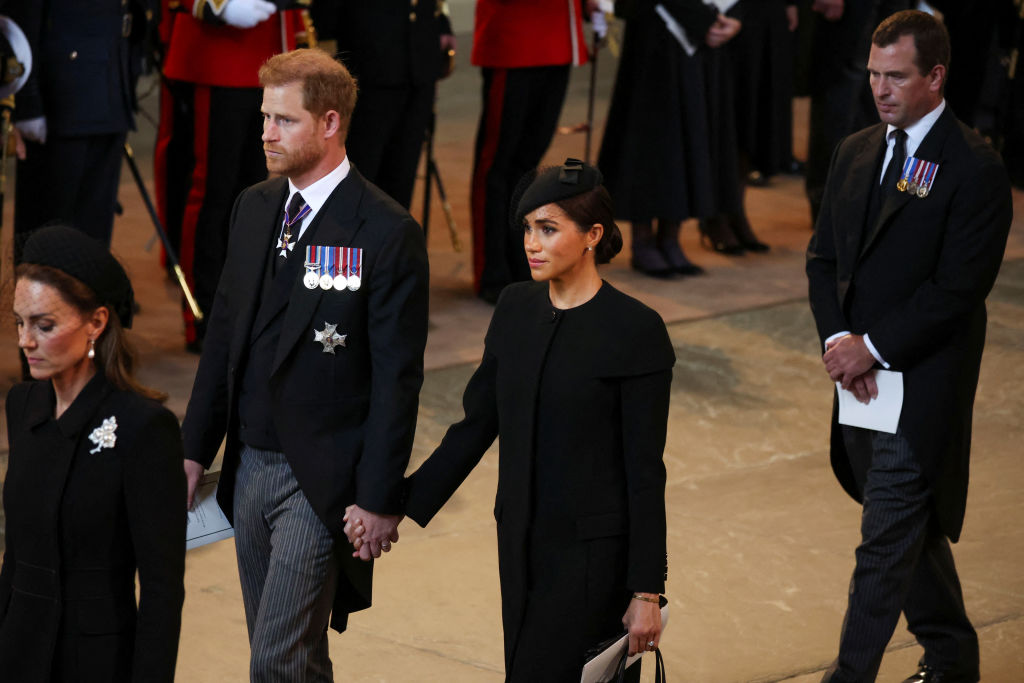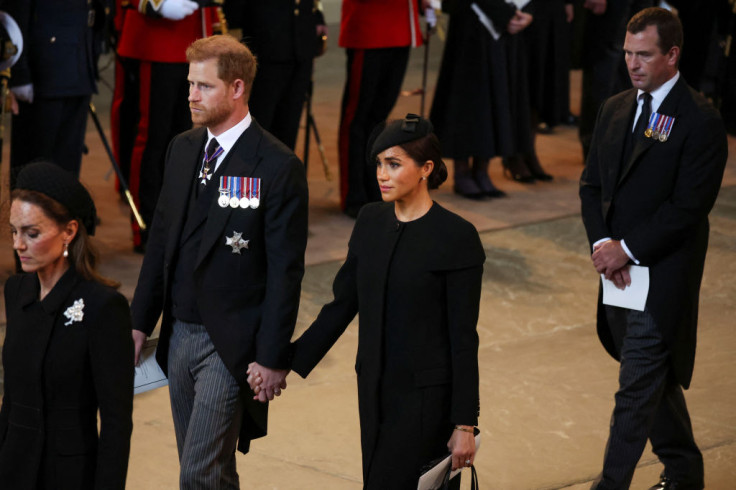 KEY POINTS
Gayle King has shared an update on the ongoing royal rift between Prince Harry and Meghan Markle, and the royal family
She claimed that both sides are trying to conclude a peace agreement
The Duke and Duchess of Sussex recently reunited with the royal family at the funeral services of Queen Elizabeth II
Prince Harry and Meghan Markle have yet to reconcile with the royal family, but both sides are making efforts to mend their relationship, according to Gayle King.
The "CBS Mornings" co-host, who is a friend of Markle's, made the revelation while discussing the ongoing royal rift between the Duke and Duchess of Sussex and the royal family during an interview with "Extra's" Billy Bush.
"There have been efforts on both sides to sort this out," King, 67, told "Extra" after the funeral of Queen Elizabeth II on Monday. "We'll see."
She continued: "Big families always go through drama, they always go through turmoil. It remains to be seen – will they come together or will they grow apart? I have no idea, I have no inside information on that, but I will tell you this: it was good to see Harry how is he doing with his family."
Prince Harry and Markle joined the royal family for the procession and state funeral of Queen Elizabeth II, who died on September 8, at Westminster Abbey in London on Monday. The couple also attended the Queen's service at St George's Chapel in Windsor alongside King Charles III, Prince William and other senior members of the royal family.
The Duke and Duchess of Sussex reportedly left the UK shortly after the funeral and flew home to California on Tuesday.
King became good friends with Markle and Prince Harry after Oprah Winfrey met them Hello! magazine. The TV personality was in attendance during Markle's 2019 Manhattan Baby Shower, hosted by Serena Williams and Amal Clooney.
King previously revealed that she called Markle and her husband after their March 2021 interview with Winfrey to ask how they were doing.
The couple, who officially stepped down from their royal duties just weeks before the interview aired, made explosive revelations about the royal family during the session, including accusations of racism and claims that Prince Harry's father, Charles, cut him off financially and stopped taking calls after the announcement have announced their decision to step down from royal duties in 2020.
"Well, I'm not trying to break the news, but I called them to see how they were doing, and it's true, Harry spoke to his brother [Prince William]and he talked with his father [King Charles III] too," King told "CBS This Morning." "The word I got was that those talks were not productive. But they're glad they at least started the conversation."
She continued: "And I think they're still upset that the palace keeps saying they want to sort it out privately, but they still believe these false stories are coming out that are very disparaging of Meghan, and still."
King also claimed that "no one in the royal family has yet spoken to Meghan, at this time."
The Duke and Duchess of Sussex claimed during the bombshell interview that they left the royal family because of a "lack of support" and "misunderstanding" and that there were alleged "concerns and conversations" within the royal family about "how dark" their then-unborn son's skin would be. was.
Prince Harry also claimed at the time that his father King Charles and brother Prince William were "trapped" within the monarchy.
Since moving to California in 2020, the couple has reunited with the royal family several times. They visited Queen Elizabeth II in April before heading to the Netherlands for the Invictus Games and returning to the UK in June to celebrate the late monarch's platinum jubilee.