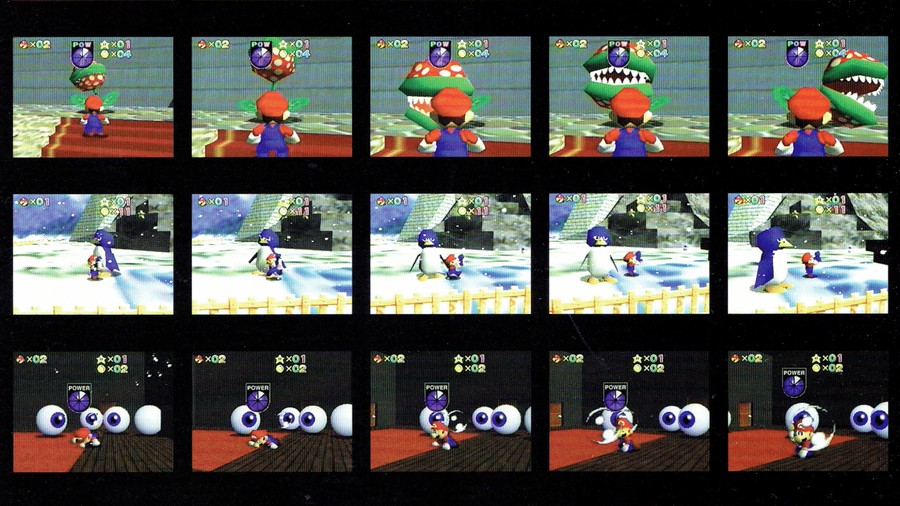 Always ready to unpack a little more Nintendo history, collaboration between locations to preserve A forest of illusions, @Render_Archive and @Nintoid has uploaded a long-sought Nintendo report from 1996. The release includes plenty of nostalgic gaming material, from sales reports to upcoming hardware features, and also gives a look at some exclusive early promotional footage. And the best part? It's free to read online!
Company report, which you can download and read Blog Forest of Illusion, has all the stuff we'd expect to find in Nintendo's annual preview accompanied by images of all its figures (we're referring to Mario, Kirby, and Link, of course). But perhaps the most interesting nugget of rare retro goodness comes from a Nintendo 64 B-Roll screenshot from 1995, which shows a small portion of Super Mario 64 in a stage that many die-hard fans of the game may not recognize.
Don't worry, you don't lose your touch and have to replay Super Mario 64 (although, that's never a bad idea), no no, this mysterious ghost stage never made it into the final game, making it one of the many mysteries in Nintendo's development history. @forestilusion took these five separate scans and stitched them together in GIF form so we can see this mystery, eyeball-filled stage in action:
It's true that this is only a second of 'reconstructed' footage and is hardly a complete level, but even this small peek at this cut level is enough to give us a sigh of relief – grabbing onto those nightmare-inducing GI eyeballs in the underwater phase? No thanks!
Nintendo's 1996 report contains a lot more than one-second snippets of gameplay, including taking a heartbreakingly optimistic tone in advertising Virtual Boy Pros (just dream, people). Of course, the entire report is in Japanese, so those of you who want to get a detailed idea of ​​the features and writing will have to settle for the "best try" of the translation software, we're afraid. But hey, the pictures are still nice to look at!
What do you think of this never-before-seen Mario stage ghost look? Put on your overalls and let us know your memories of the game in the comments!